The school principal, Caroline Cole RAD RTS, AIDTA and second in command Sasha Johns RAD RTS are both fully qualified ballet teachers with the Royal Academy of Dance.

We are qualified to teach classical ballet, tap and contemporary modern jazz to all ages and abilities.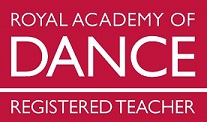 Children's classes range from pre-school ballet (from approx age 2.5), through the syllabus to higher and vocational grades allowing students to attend just for fun, or to work towards exams and on to reach their higher dance aspirations.
We strongly recommend that ballet remains the core subject in order for each student to attain their potential in every field of dance.
Adult classes are available at beginner and more advanced levels.
Available on request in any discipline or to learn a choreographed dance for your wedding!  Please enquire for further details and availability
Three years ago I made the decision to start Tap dancing again after 12 years. I discovered Sherborne Dance Academy and the amazing Caroline Cole. Today I did my first tap exam in 15 years....!! Thank you Caroline for being a brilliant teacher, for encouraging me and for getting me through the exam.
Fab show, fab dance school, absolutely fabulous dance teacher.
Today is an end of an era for our family - particularly for Emma as it is her last day at Sherborne Dance Academy, having been a massive part of her life from the age of 4. We are sad but she is ready to move on, with an amazing opportunity ahead of her at Wilkes Academy. Thank you Caroline for being an amazing dance teacher and friend and for giving Emma the opportunity to teach, she has loved every minute of It.
For all your little ones who would love to learn to dance, it was the best decision we ever made for our daughter. She has made so many lovely friends over many years. All the shows have been so exciting. We totally recommend Sherborne Dance Academy. It is a brilliant dance school.
Thank you for the wonderful ballet and tap lessons - they are the highlight of Maia's week - so much so that for her birthday she wants a ballerina party!
The show was exceptional last week, the girls loved being part of it, I loved seeing them perform, and the flow and sensitivity of all you put together was utterly sensational. I found it so moving to see how you create performance moments for each of your pupils, the older girls are so confident and clearly committed...your adult dancers were so full of grace and beauty, and of course the diddies were adorable. You create such beauty by empowering your dancers to express themselves, I had several sobs because, for me, you touch something very spiritual and sublime through your transmission....a dream for little girls.....an opportunity to celebrate femininity, strength, courage and imagination for all, and transformational in such a magical way for the older dancers. A most heartfelt thank you, I am so very happy that my girls have the opportunity to experience your classes and I hope that next time you have a show I can help in a very proactive way. Congratulations, you have touched many lives!!
Before my daughter started Miss Caroline's pre-school ballet classes, she was extremely shy in any social setting, not wanting to leave my side. After Miss Caroline's gentle welcome and patient manner, by the second session my daughter was happily taking her hand and joining the group's activities.
It is now my daughter's second term and ballet is the highlight of her week. She doesn't stop smiling throughout the session and is perfectly at ease with sharing her ideas and interacting with the other children. She has started preschool and is making friends and adjusting well. I have no doubt that Miss Caroline's gentle, creative class has been the perfect introduction to structured group activities, boosting my daughter's confidence and teaching her that time without Mummy can be a lot of fun!
I was somewhat surprised when my 6 and a half year old son (who is really into bugs and worms etc) expressed a desire to learn tap and ballet (having watched Bruce Forsyth on Strictly Come Dancing!) Having made a few enquiries I was given Caroline's number by a friend whose daughter already attended the Academy. Although there were, at the beginning, no other boys in Charlie's classes he had a wonderful time and thoroughly enjoys himself each week. He is extremely proud of his hobby and looks forward to Fridays. The show, although tiring was a huge achievement for him, and at parents evening this week his teacher commented on his huge leap in confidence and self esteem and this can only be attributed to his dancing and his part in the show. So, thank you Caroline!
Many thanks for the most wonderful opportunity you gave Arthur - he loved being part of your fabulous show - it was such a huge success - so beautifully choreographed and so professional - a truly marvellous experience for him and for all of us. I could not be more proud that my beautiful 3 year old was so excited and happy to dance out onto a huge, brightly lit stage, in front of a packed audience. His comments said it all when he came off stage - "they were clapping me Mummy" he said with delight, and each time when asked if he wanted to go again he was always very excited and happy... it is a wonderful thing for children to have opportunities like these and I have no doubt they provide invaluable confidence boosts, helping them with all sorts of challenges they may face in later life. Thank you.
Isabella has had an amazing weekend and loved every minute of performing and dancing. Thank you for making my daughter so happy.